WWE marks are a special breed of people. It feels as if they are hypnotized by Vince McMahon. They act like Vince is always right. On Facebook, Twitter, YouTube, and other social media they will fight on behalf of WWE and Vince McMahon for FREE. It does not matter what wrong Vince McMahon does, such as doing the Saudi deal, abandoning wrestlers in Saudi Arabia, releasing employees during a pandemic, banning wrestlers from twitch or other third parties, etc. Vince McMahon and WWE are always right in their eyes.
These WWE marks are strongly against AEW. They are a bunch of keyboard warriors who will say dumb things against AEW. Below I am listing down 5 dumb things WWE marks say about AEW.
1. Vince McMahon will buy AEW
When the daddy of WWE marks Triple H said during 2019 Hall of fame that Vince McMahon will buy AEW, they took it seriously. Before writing "Vince will buy AEW" it never comes into their pea sized brains that who owns AEW, the son of a mega-billionaire Shahid Khan. AEW is owned by Tony Khan, not TNT, so if TNT decides not to continue, they will get another TV deal and continue their work. There is no question about buying AEW.
Furthermore, after filing for bankruptcy after the XFL loss in 2020, Vince McMahon is in a more sticky situation than the Khans.
Here are the two screenshots below of the net worth of both Vince McMahon and Shahid Khan, so it is easy for the dumb WWE marks to understand.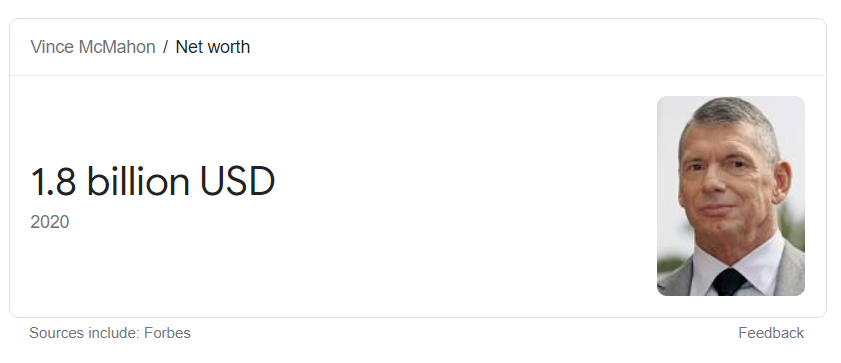 2. Tony Khan is a money mark
WWE marks do not have the ability to think, they use things which they hear from other people's podcast such as Cornette's podcast. In one of his podcasts, it was mentioned that Tony Khan is a money mark, he is like Dixie Carter from TNA, the ex-owner of Impact wrestling. They think that Tony Khan needlessly spends money and do whatever the wrestlers tell him to do, he is just a mark with money.
But they completely overlook the genius in him. Since October 2nd 2019 and the whole year of 2020 they have completely thrashed NXT. Up to now the total count is 47-9-2, for 47 times AEW beat NXT in the ratings, 9 times NXT won and 2 times tied.
But if you consider the important 18-49 demo, NXT has never beat AEW. NXT's 18-49 demo is getting worse with each week. This would have never been possible without the genius mind and resources of Tony Khan. He did not throw money at wrestlers asking ridiculous amounts such as CM Punk or Brock Lesnar.
3. AEW is a tshirt company
When AEW had their first press conference in 2019 the stupid marks were complaining, they made fun of Hangman, Jenella, MJF. Hangman and MJF are much bigger stars in 2020. AEW announced their first show on 25th May 2019, and also announced some of their t-shirts, which were selling very well. The WWE marks came out of their holes and said that AEW is nothing but a t-shirt company. But what happened when they started selling out PPV tickets within minutes. Once I thought they will be dumb enough to refer AEW as a ticket company.
4. AEW is a home for WWE rejects
When AEW hired some of WWE stars the marks started saying that AEW is hiring WWE rejects. Whenever a WWE wrestler goes to AEW they automatically become a WWE reject! That is the dumbness level of WWE marks. Is Chris Jericho, the first ever Undisputed champion a WWE reject?! Jon Moxley, former WWE champion a WWE reject? FTR, the best tag team in all of the pro wrestling are WWE rejects!? This list goes on and on.
5. AEW is WCW 2.0
Just because AEW is on TNT doesn't mean AEW is WCW 2.0 you dumb WWE marks. They took inspiration from WCW and took some ideas so they can bring back some of the lapsed WCW fans back to wrestling again. The fans who stopped watching after WCW went out of business.