The Wednesday Night Wars of Wrestling has already begun. AEW already won four weeks in a row in October. But the bad thing is that both the ratings of AEW Dynamite and NXT are falling instead of rising, may be it is because of the baseball game going on.
Anyways, I am a casual wrestling fan, and I do not live in USA. I watch AEW Dynamite on Fite TV. I was desperate of how I can watch AEW Dynamite, when Fite TV released AEW Plus membership for only about $5/month, I subscribed immediately. But the funny thing is, I have never watched a single NXT show, even though it is shown for free in our now tv channel.
So I am listing down a few reasons below of why I am preferring AEW Dynamite instead of NXT shows in the Wednesday night wars.
Small Crowd in NXT
I have heard from a lot of people in Youtube that NXT is awesome, has amazing technical wrestling etc. But still when I tried to watch it, it just couldn't maintain my interest. One of the biggest thing which turned me off is the small crowd in Full Sail University studio. It looks and feels like a WWE developmental brand. It is very difficult to take it seriously. Whenever I catch a glimpse of NXT, I feel like its just a bunch of nobodies fighting for developmental titles. Hoping one day they will be promoted to either Raw or Smackdown, where they will be buried by Vince McMahon creatives.
On the other hand, in AEW Dynamite there are pyros, great crowd, better lighting. It just looks and feels like a serious brand.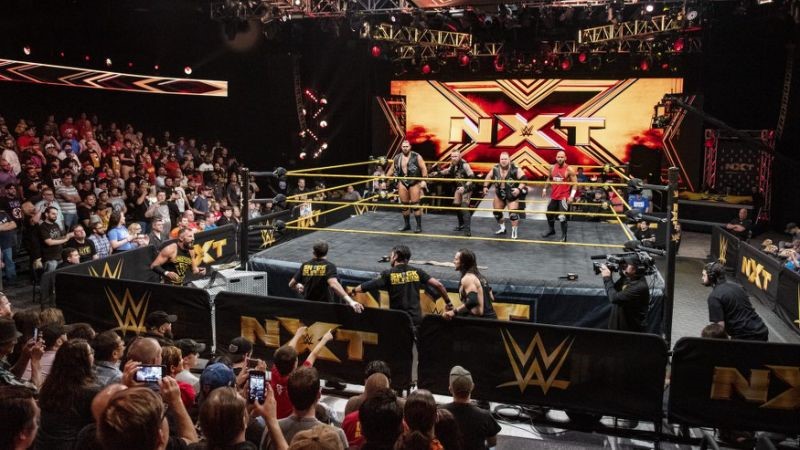 NXT is PG while AEW Dynamite is PG-14
NXT is rated as a PG product, which means you cannot expect anything out of the ordinary. Just a bunch of guys wrestling in the ring, that's it. Which becomes quite monotonous and boring after a while. But on the other hand AEW Dynamite of PG-14, it is more edgier. Wrestlers and commentators have more freedom to say certain words which they aren't allowed to say in PG tv. We have already seen Jon Moxley (AKA Dean Ambrose in WWE) break a glass coffee table with Kenny Omega.
NXT is a WWE Product
I am a disgruntled WWE fan. For the last 10+ years WWE has been absolute garbage. Their main audience are kids. Their products and story lines are so immature, that it has been difficult to watch. I quit watching WWE in 2017. Triple H is just as bad as Vince McMahon, he once made fun about the fans who complain on twitter about the WWE product. Triple H is extremely arrogant and nothing but a Vince McMahon ass kisser. Please have a look at the video below in which Triple H insults twitter fans.
Conclusion
At the end of the day it is your choice of which product you would like to watch AEW Dynamite or NXT. At the end of the end, I hope that wrestling audience increases. But I also hope that WWE becomes the less popular show in USA. Because that will be a slap in their face for not listening to the fans.